GOLF CLASSIC & PAR TEE FOR PFC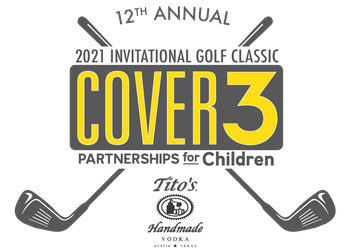 COVER 3 is gearing up to host its 2021 Par-Tee for PFC and Invitational Golf Classic, our annual fundraising events to benefit Partnerships for Children. 100% of the proceeds raised from these events goes directly to Partnerships for Children to support their core programs and the numerous children they serve in our local community.
We're so grateful to each of our sponsors for stepping up to help with our fundraising efforts. The pandemic has impacted us all and we know these are difficult times. Thank you for your sponsorship and commitment to making a difference in our local community.
We're truly grateful to be a part of the Austin community. Each year as we begin building our silent auction, we're blown away by the kindness and generosity of our friends, neighbors and small businesses in the community. Contributing to our silent auction with an in-kind donation is truly impactful - it allows our fundraising to be successful which ultimately provides PFC with the resources and financial support necessary to serve the numerous children and families in care of CPS.
CAPITAL CRUISES
FAIL JEWELRY
CABO BOB'S
ZUZU HANDMADE MEXICAN FOOD
FIDDLES + FERNS
HAIR BY HAVI
SUPER STAR NAILS
MASSAGE HEIGHTS
VIA 313
TC4 & CO.
FAIRMONT AUSTIN
BRENDA JONES
AUSTIN POTTERY STUDIO
MAVERICK HORSEBACK RIDING
DONNA WEAVER
PUB CRAWLER
TWIN LIQUORS
VIP MARINA
WATERLOO ICE HOUSE
SKIN ZEN
MOONSHINE PATIO & BAR
BLANTON MUSEUM
REAGAN MORENO
AMY CARPENTER
WHOLE FOODS
BLUE JEAN REVIVAL
J BLOOM | Dawn Ledgerwood
ROUND ROCK EXPRESS
RON FREDERICK'S HAIR
HAPPY SALON
SPEC'S
MADE-IN
KENDRA SCOTT
VOLUSPA CANDLES
BARBER VISION | Joy Berry
URBAN AIR
FABIAN FLORALS
BRADZ SALON
DECORATING DEN | Kris Miller
KATHY DODSON DESIGN
TED CHEAVENS
TARA BRADDOCK DESIGNS
GREAT HILLS COUNTRY CLUB
SUSTO MEZCAL
CONSUELA
JAMES AVERY
LUX BOARDS
CHICK-FIL-A
NANCY FRAZIER
RODAN + FIELDS | Erin Precopia
KORI GOUGH
RED ASH
J. CARVERS
RICHARDS RAINWATER
ATX HOOPS
FARA COFFEE
ATX COCINA
BRAD BOYETT
CABI | Jo Dale Guzman
PINTHOUSE PIZZA
TEN THIRTY DESIGNS